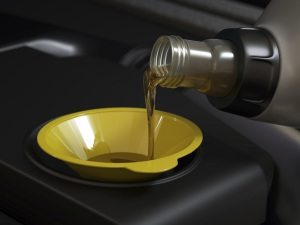 Since the beginning of the automobile, keeping the myriad of moving parts in their best condition has been a challenge.  As our cars and trucks have become more complex, a wide variety of different automotive lubricants have been developed to provide you and your vehicle with the best performance and longest life. Different vehicles will have different requirements of the types of automotive lubricants they need. The size and type of engine, the heating and cooling system, the chassis of the vehicle, and other moving parts, will all have particular manufacturer specifications as to the type of lubricant. These specifications are part of the design of the vehicle, and their use will increase and improve the function and life of your car or truck.

Engine oil will protect the many moving parts of your engine from starting all the way through the high-temperature, long-term stresses of long-duration high-speed driving. Depending on the manufacturer of the engine and the climate where you live, the viscosity or thickness of the oil will change in order to allow for an easy cold-start and keep the moving parts from overheating when the engine is at speed. It's best to consult the manufacturer's recommendation or owner's manual for your particular vehicle in order to choose the best automotive lubricants.

Bumgarner Oil has been serving Hickory, NC and the surrounding counties since 1954. We serve gas stations in all their delivery or re-fueling needs, in addition to the full spectrum of oil-based fuels and automotive lubricants for your business, home, or other needs. Let us help you today!